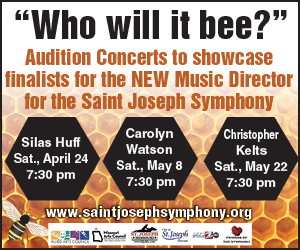 Saint Joseph Symphony
NEWS RELEASE
March 1, 2021
FOR IMMEDIATE RELEASE
Contact: Lori McAlister 816-233-7701
For the first time in more than a year, the Saint Joseph Symphony will be selling tickets to live performances this spring! 
Each of the three Music Conductor/Director finalists have designed a show to present at their audition concert this spring, featuring members of the Saint Joseph Symphony Orchestra. This is the final step in their selection process resulting in the hire of a new music director for the Saint Joseph Symphony, to be announced in June.
Each show will take place at The Missouri Theater (717 Edmond Street, St Joseph, MO 64501). There will be a brief pre-show talk by each candidate at 7:15 pm followed by the concert at 7:30 pm. Tickets for each performance are available for in-person or virtual attendance.
Pandemic precautions are top-of-mind while planning these shows. Concerts will last no more than 60 minutes. There is no intermission. Seats are socially-distanced and masks are required. Once seated, patrons are asked to keep their seats until dismissed at the conclusion of the performance. "Needless to say, we appreciate the patience and cooperation of all attending to create a safe environment for our artists and volunteers," said Lori McAlister, Managing Director of the Saint Joseph Symphony. "We are making every reasonable effort to mitigate the risk of infection for audience and artists alike."
For each show, whether virtual or in-person, tickets will be refunded in case of a pandemic-related cancellation. (Individual tickets are non-refundable.) Once each recording premieres online, it will remain available to view through June 15.
The dates and guest conductors are:
Saturday, April 24, Maestro Silas Huff live concert

Saturday, May 1, S. Huff recording on-demand

Saturday, May 8, Maestro Carolyn Watson live concert

Saturday, May 15, C. Watson recording on-demand

Saturday, May 22, Maestro Christopher Kelts live concert

Wednesday, May 26, C. Kelts recording on-demand
Audience members will be invited to provide feedback on each of the conductors to assist the selection panel in their final decision.
Seating is limited for social distancing. Make your reservation early. Tickets are available online starting Friday, March 5 at  www.saintjosephsymphony.org/ or at the Saint Joseph Symphony office, 120 S. 8th Street, St Joseph, MO 64501; 816-233-7701; info@saintjosephsymphony.org.